Mini Angel Catari
Rarity:
 Super Rare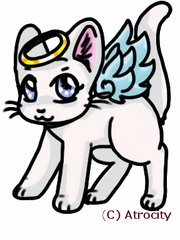 -----
Description: The angel Catari is a rare and beautiful breed. Always optimistic, and always sweet and kind and willing to help others, its Easy to train and easy to please.
TRIVIA
The angel Catari and the Devil Catari were the original Catari pets.. Angel was female, Devil was male.
The Angel catari was the FIRST pet Ittermat Made. thats why its in the logo and banner.